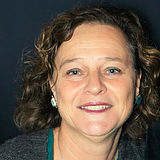 Mrs. Margot de Cleen
Senior advisor Soil and Water in the Dutch Ministry of Infrastructure and Water Management
"Soil Policy in the Netherlands. Collaboration is the key to impact"
Margot de Cleen works for the Dutch Ministry of Infrastructure and Water Management as senior advisor Soil and Water. She works on the science policy interface and thus has acted as project manager for the Cost Benefit Analyses on the Dutch oil Remediation Operation and the Dutch Knowledge agenda on soil and subsurface. She was involved in the realization of the first Soil Covenant. She is member of the Expert group Soils of the European Commission and is active in the Common Forum network for contaminated sites and in the Common Forum working group "Soil as a resource". In the Netherlands she is member of the core group of the societal initiative on conscious use of soil where she is active in awareness raising and capacity building. She initiated the TerrAgenda conferences. and is involved in the start of the dialogue to implement the SDG 15.3 Land Degradation Neutrality in the Netherlands.
As an advisor on soil and water policy at the Dutch Ministry of Infrastructure and Water Management at the Directory Environment of Rijkswaterstaat she promotes sustainable use of land and soil as essential for achieving the SDGs (the UN sustainable development goals). She has contributed to a booklet on land stewardship: Investing in the Natural, Social and Economic Capital of Industrial Land, a joint effort of the policy network Common Forum and industry network Nicole.
Margot has studied at the Wageningen University and Research Centre with a specialization in soil hygiene. She started her working career at the Dutch Commission on Environmental Impact Assessment. She worked at the Dutch Research Institutes Deltares and RIVM on concepts for risk based soil remediation and monitoring before entering the realms of policy making at the Ministry of Infrastructure and Water Management.